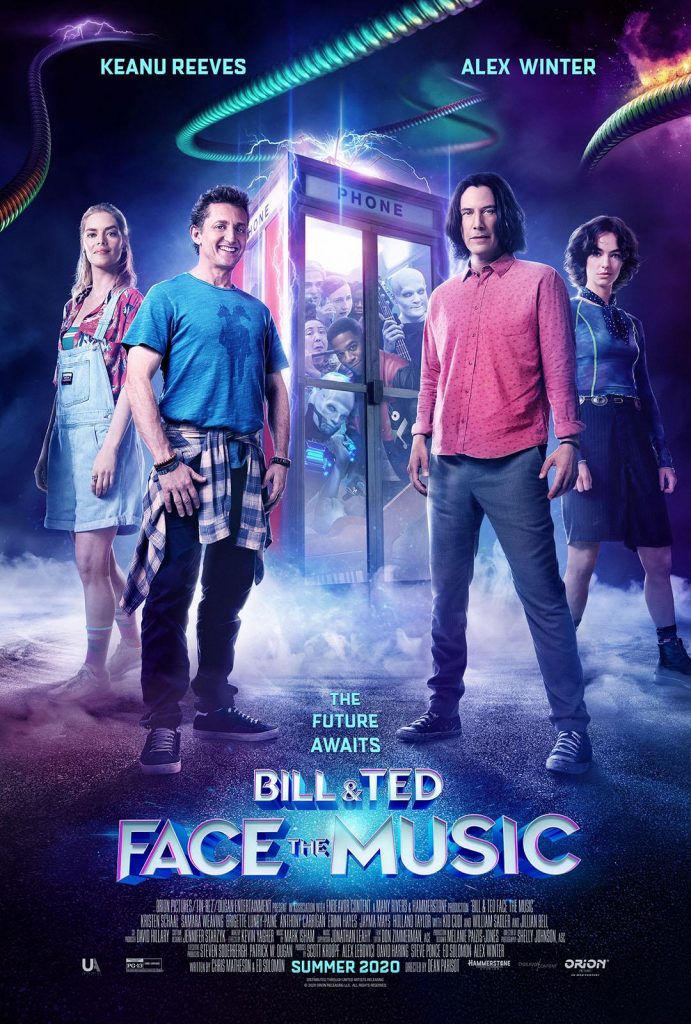 Character:
Death/Grim Reaper
Directed by:
Dean Parisot
Written by:
Chris Matheson, Ed Solomon,
Produced by:
Scott Kroopf, Alex Lebovici, David Haring, Steve Ponce, Ed Solomon, Alex Winter
Other cast:
Keanu Reeves (Bill), Alex Winter (Ted), Brigette Lundy-Paine (Billie), Samara Weaving (Thea), Kristen Schaal (Kelly), Anthony Carrigan (Dennis Caleb McCoy)
Release date:
28 August, 2020
Genre:
Adventure | Comedy |
Running time:
1 hr 31 min (91 min)
In 2020, Bill Preston and Ted Logan have failed to write a prophesied song to unite the world, and time and space are beginning to collapse. Their wives are unhappy and Ted confides in Bill that he does not believe they will ever write the song. Kelly, the daughter of Bill and Ted's deceased time-travelling guide Rufus, arrives to take them to the future. They meet Kelly's mother, the Great Leader, who tells them that they have until 7:17 p.m. that night to write the song or reality will collapse. Realizing they will not be able to write the song in time, Bill and Ted use Rufus's time-traveling phone booth to steal the song from their future selves. However, their future selves are unsuccessful and their wives have left them; they blame their past selves for their failures.
With Bill and Ted missing, the Great Leader sends a time-traveling robot named Dennis to kill them, hoping this will restore balance to the universe. Kelly travels back to the present to warn them, but instead meets their daughters, Billie and Thea, who decide to help their fathers create the song. Using Kelly's time machine, Billie and Thea recruit musicians Jimi Hendrix, Louis Armstrong, Wolfgang Amadeus Mozart, Ling Lun, and Grom, a drummer from before recorded history. Bill and Ted travel to 2025, where they have seemingly become successful. However, they are tricked by their future counterparts, who try to pass off a song by Dave Grohl as their own. Billie, Thea, and their band return to the present to meet up with Kelly and a time-displaced Kid Cudi, but Dennis inadvertently kills them and sends them to Hell.
Bill and Ted travel to 2067 and find their elderly future selves on their deathbeds. The elder Bill and Ted give their younger selves a USB drive containing the fabled song written by "Preston / Logan", stating that it must be performed at 7:17 PM at "MP 46". Dennis appears, but stands down upon learning Bill and Ted have the song, and regretfully informs them that he killed their daughters. In an attempt to goad Dennis into killing them so they can rescue their daughters in Hell, Bill destroys the USB drive. This backfires as a distraught Dennis turns his weapon on himself, but Bill and Ted throw themselves in the way of the beam. All three are sent to Hell, where Bill and Ted locate their daughters and the band. With the help of their daughters, Bill and Ted settle their differences with their old bandmate Death to return everyone alive to the present.
The group arrive on Interstate 210 at the MP 46 marker, just as reality is collapsing. Bill and Ted realize that the "Preston / Logan" on the USB drive actually refers to Billie and Thea, and that the song must be performed by everyone across time and space. They are joined by their wives, who have realized they are happiest in their current dimension. The four use Rufus' phone booth to create infinite copies of themselves across time and space, handing instruments to everyone who ever lived. Everyone across reality performs the song together, with Billie and Thea producing, while Bill and Ted lead the band on guitar. The universe is repaired and everyone returns to their proper time periods.
Official Trailer:
Selected Photos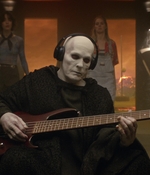 Taglines:
• The Future Awaits
Triva:
Alex Winter, Keanu Reeves (though uncredited) and William Sadler also appeared in Freaked (1993), which is the only film outside of "Bill & Ted" to feature both Winter and Reeves. "Freaked" also turned out to be Winter's last major film for a number of years as he went on to focus on mostly directing films as well as making cameos on movies and TV shows.
Death's stand-up bass from the previous movie is visible when they go to his home later in the film to convince him to join the band.
Quotes By Death:
"Sorry, not sorry!"
"Why, if it isn't the Wyld Stallyns. Have you come to sue me again?"
"Talk to the hand."
"Did your restraining order run out? Did the judge change his mind? So now I am allowed to get close to you? Hm? Is this too close?"
"I was Wyld Stallyns."
"You kicked me out because you was jealous of me."
"You wouldn't let me play!"
"I was in the groove!"
"Those forty minute solos, that was the highlight of your shows. It's no wonder you went down in the tubes."
"I have been demoted down here, because I took two so-called "friends" back up who should not have gone back up. So if that is why you're here…"
"Sorry, not sorry! Bye!"
"Well, if it isn't Little Bill and Little Ted."
"Oh. Don't fudge with me."
"The critics hated it."
"'It was all over the place,' they said. 'It was a raging confused mess,' they said. 'It was even worse than Pale on Pale,' they said.
"I am sorry that fame went to my head. It's very intoxicating."
"We really did rock, didn't we?"
"Let's rock!"
"Uh-huh. You don't just get to rock. You got to earn the right to rock."
"Tambourine is not as easy as it looks."