Character:
Hotel Clerk
Directed by:
Sidney Poitier
Written by:
Henry Rosenbaum, David Taylor.
Produced by:
Martin Ransohoff, Henry Rosenbaum, David Taylor, Melville Tucker.
Other cast:
Gene Wilder, Gilda Radner, Robert Prosky, Richard Widmark, Kathleen Quinlan, Josef Sommer.
Release date:
04 June, 1982
Genre:
Action | Comedy
Running time:
1 hr 50 min (110 min) 1 hr 47 min (107 min) (Ontario) (Canada)
An architect named Michael Jordon accidentally gets caught up in a web of intrigue and murder when he ends up on the run on false murder charges. Kate is a woman out to find her brother's killer. The two team up, but not before first thinking the other is the killer. The duo end up on a wild cross-country ride from New York City to the Grand Canyon.
Title Screen:
Selected Photos: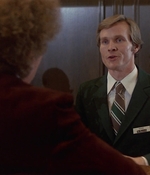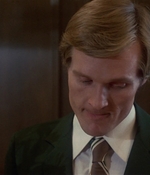 Tagline:
• From the People who Brought you 'Stir Crazy'
• On the run, falling in love and up to their necks in funny business!
• Something funny's going on here.
• Meet Michael Jordan. And his mistake.
Quotes By Hotel Clerk:
"May I help you sir?"
Just a minute.
"I'm afraid we have no one by that name sir. Sorry.