Character:
Kenneth Braun
Directed by:
Bill Condon
Written by:
Bill Condon
Produced by:
Gail Mutrux
Other cast:
Liam Neeson, Laura Linney, Oliver Platt, Tim Curry, John Lithgow, Veroncia Cartwright, Peter Sarsgard, Chris O'Donnell, Julianne Nicholson, Dylan Baker, Timothy Hutton.
Release date:
07 January, 2004
Genre:
Biography | Drama
Running time:
1 hr 58 min (118 min)
Professor Alfred Kinsey is interviewed about his sexual history. Interspersed with the interview are flashbacks from his childhood and young-adulthood. The young child years show his father, a lay minister of the Methodist church, denouncing modern inventions as leading to sexual sin, then in early adolescence, humiliating Kinsey in a store by denouncing its keeper for showing him cigarettes, while his adolescence shows his experiences as a Boy Scout and a late teenage scene shows Kinsey disappointing his father by his chosen vocational intentions. The adult Kinsey teaches at Indiana University as a professor of biology lecturing on gall wasps.
Kinsey falls in love with a student in his class, whom he calls Mac, and marries her. Consummation of their marriage is difficult at first, because of a medical problem Mac has that is fixed easily with minor surgery. At the university, Professor Kinsey, who is affectionately called "Prok" by his graduate students, meets with them after hours to offer individual sexual advice.
At a book party celebrating Kinsey's latest publication on gall wasps, Kinsey approaches the dean of students about an open-forum sex education course as opposed to the anti-sex propaganda taught in a general health education class. It is approved, but on the grounds that it is open only to teachers, graduate or senior students, and married students. Kinsey begins teaching the sex course to a packed auditorium.
Kinsey continues answering students' questions in personal meetings but his answers are severely limited by the paucity of scientific data about human sexual behavior. This leads Kinsey to pass out questionnaires in his sexual education class from which he learns of the enormous disparity between what society had assumed people do and what their actual practices are. After securing financial support from the Rockefeller Foundation, Kinsey and his research assistants, including his closest assistant, Clyde Martin, travel the country, interviewing subjects about their sexual histories.
As time progresses Kinsey realizes that sexuality within humans, including himself, is a lot more varied than was originally thought. The range of expression he creates becomes known as the Kinsey scale, which ranks overall sexuality from completely heterosexual to completely homosexual.
The first sexological book Kinsey publishes, which is on the sexual habits of the male, is a large-scale success and a best seller. Kinsey turns his research to women and is met with more controversy. With the release of the volume on female sexual behavior, support for his work declines in a time when Senator Joseph McCarthy's witch hunts against Communists and homosexuals (the latter known as the Lavender Scare) lead the Rockefeller Foundation to withdraw its financial support, fearing that it be labeled "Communist" for backing the subversion of traditional American values.
Kinsey feels he has failed everyone who has ever been a victim of sexual ignorance. A customs officer is tipped off to an importation of some of Kinsey's research material, which only exacerbates the financial hardship of Kinsey's research organization. Kinsey suffers a heart attack, and is found to have developed an addiction to barbiturates. Meeting with other philanthropists fails to garner the support needed. Still, Kinsey continues his taking of sex histories.
Returning to the initial interview, Kinsey is asked about love and whether he will ever conduct research on it. He responds that love is impossible to measure and impossible to quantify, but that it is important. Kinsey and Mac pull over to the side of the road for a nature walk. She remarks about a tree that has been there for a thousand years. Kinsey replies that the tree seems to display a strong love in the way its roots grip the earth. The two walk off together, Kinsey remarking "there's a lot of work to do".
Selected Photos: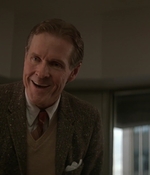 Tagline:
• Let's Talk About Sex.
Quotes By Kenneth Braun:
Don't worry, Dr. Kinsey. I trust you. We're actually a lot alike, you know.
I record everything too. The depth of every vagina I've encountered. The length and circumference of every penis. The time to reach orgasm. The distance of ejaculation. I've written it all down. This is a record of my life's *real* work. Which is sex, by the way. I find that recording is a way to experience things a second time, don't you?
I suppose someone like me really puts your beliefs to the test, huh?
You know, you're a lot more square than I thought you'd be.